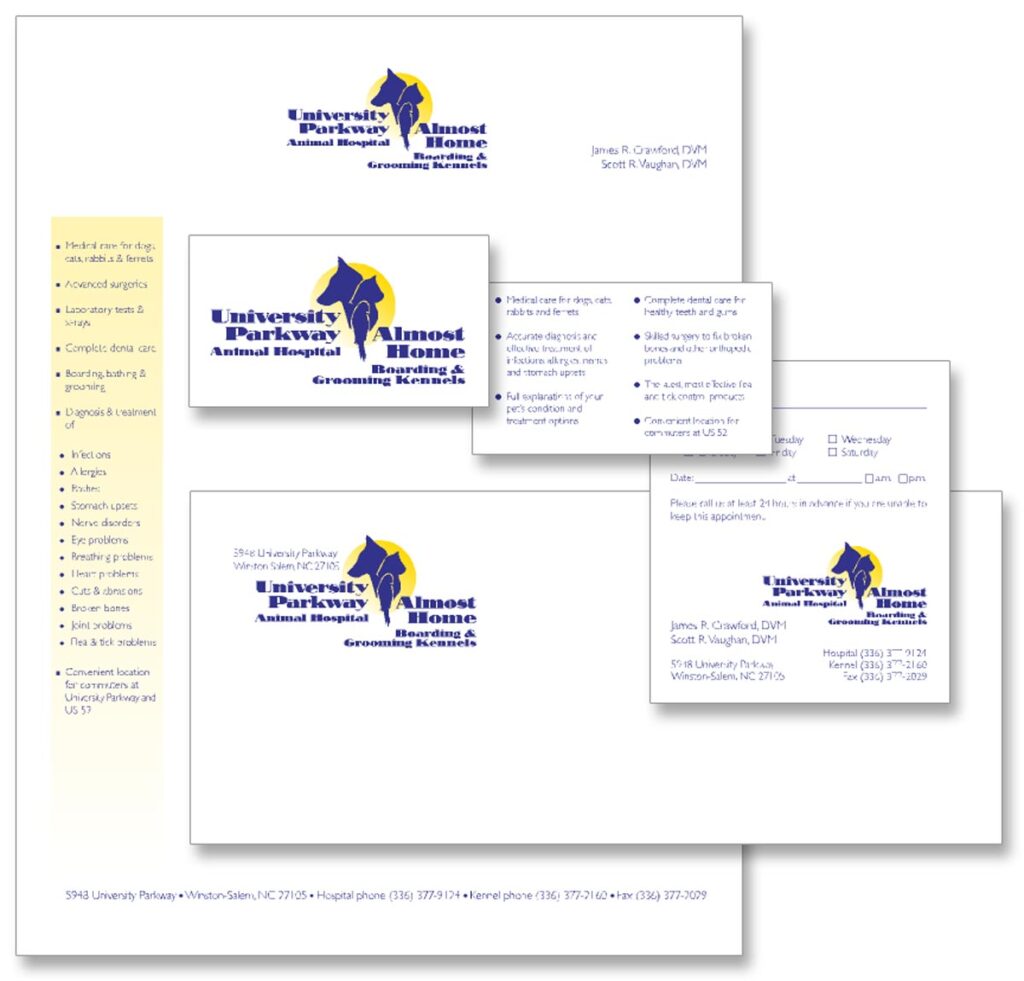 University Parkway Animal Hospital
Almost Home Boarding and Grooming Kennels
Winston-Salem, North Carolina
Projects and Consulting Services
1998-1999, 2000, 2002
Forsyth County Veterinary Medical Association Cooperative Program Participant 1996-1997
Hospital and boarding kennel client surveys
Staff survey
Marketing plan
"Marketing Guide" for staff
"Marketing Guide Practice Owner's Supplement"
Logos and stationery
Client forms
Referral and recruiting flyers
"When Her Kitten's Happy, She's Happy" brochure
"We Keep Pets Healthy, Happy and Well-Groomed" brochure
Yellow Pages advertisement
University Parkway Animal Hospital—a small-animal practice treating dogs, cats, rabbits and ferrets—was my client between 1996 and 2002. James R. Crawford, DVM, owned the hospital and the attached boarding kennels. During the time we worked together, he had one associate. Dr. Crawford has since closed the practice.
I got to know Dr. Crawford and his practice as one of 15 participants in a cooperative public relations program I ran for two years for the Forsyth County Veterinary Medical Association. Our one-on-one consulting and creative services relationship began after the cooperative program ended and evolved in good order, beginning with surveys and marketing plan development before proceeding to writing and designing marketing manuals, stationery and brochures.
Surveys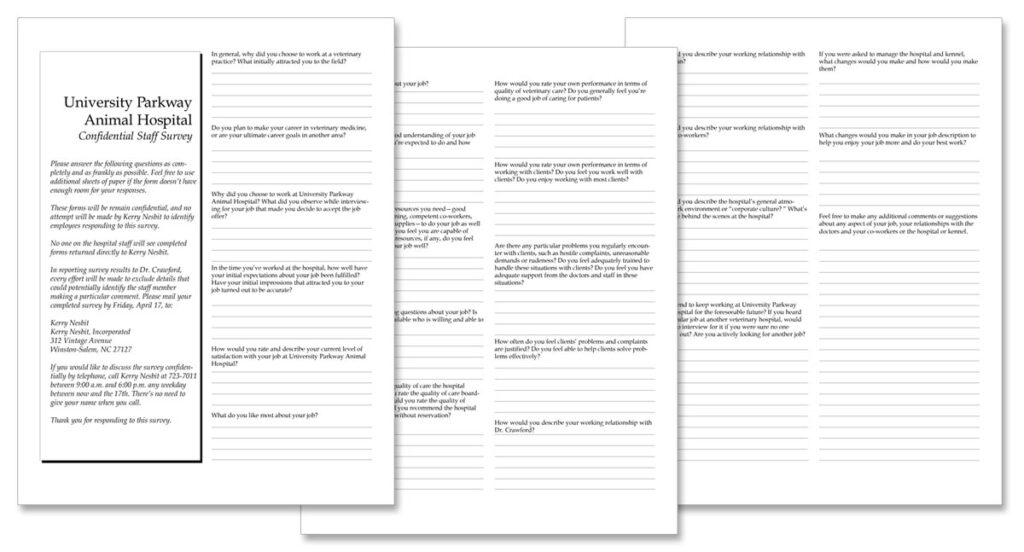 The surveys were helpful in identifying practice strengths and opportunities for improvement from the perspectives of "best clients," "lost clients" and clinic employees.
Marketing Plan and Marketing Guides
When I began working with University Parkway in the pre-internet days, promotional activities were limited to Yellow Page advertisements, Val Pak coupons and hospital and kennel brochures on display in the reception area.
Based on consultations with Dr. Crawford and survey results, I created a marketing plan for the practice and kennel, including recommended strategies to attract new clients, retain current clients and provide more services to each client.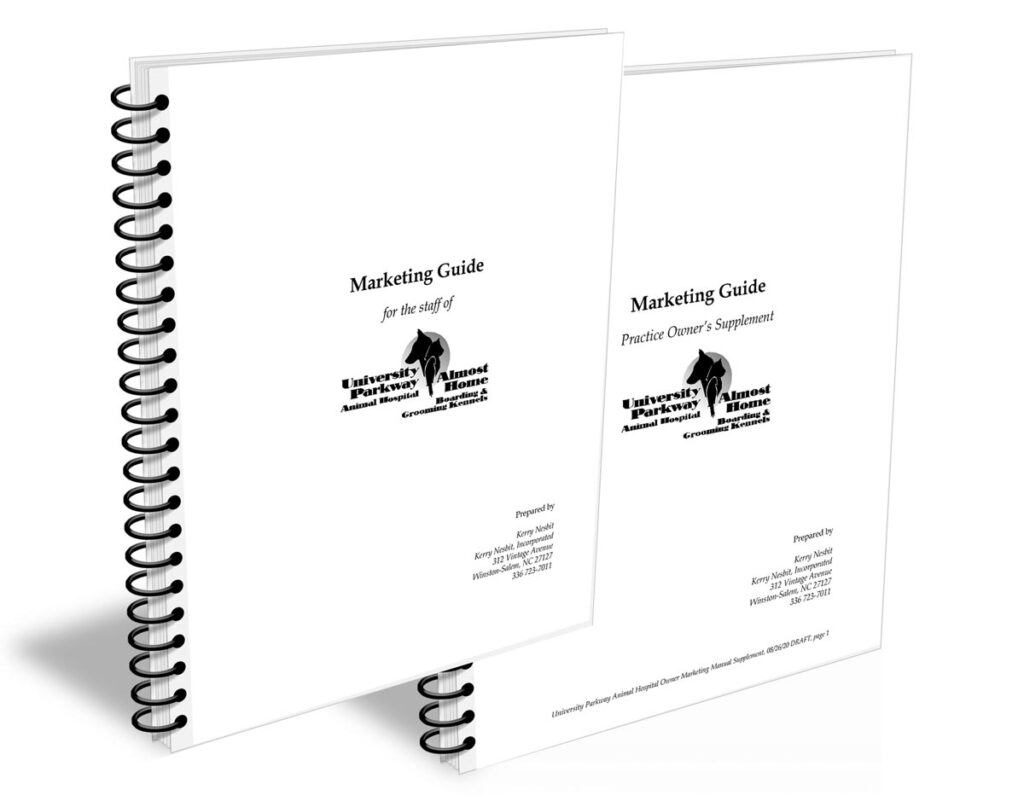 To offer practical guidelines for implementing the plan, I produced a 39-page Marketing Guide for staff, and a 14-page Owner's Supplement.
Here's the Table of Contents for the staff's Marketing Guide—
Marketing Guide for the Staff of University Parkway Animal Hospital and Almost Home Boarding and Grooming Kennels
I. Marketing Basics
Features & Benefits
Reality & Perceptions
II. The Practice Marketing Plan
The Situation
Products
Pricing
Location & Facilities
Current Promotional Activities
Marketing Goals
III. Getting New Clients
Why Referrals Are Important
The Client Referral Protocol
Why Booking Telephone Shoppers Is Important
The Telephone Shopper Protocol
Helpful Hints for Following the Telephone Shopper Protocol
Features & Benefits Work Sheet
IV. Keeping the Clients You Have
Rating Clients for their Value to the Practice
The Importance of Keeping Your Best Clients
The Client Retention Protocols
The New Client Protocol
The Active Client Maintenance Protocol
Protocol for Reactivating Inactive Clients
The 'Client Alert' Protocol
The Former Client Follow-Up Protocol
Helpful Hints for Following the Client Retention Protocols
V. Helping Your Clients Benefit from More of Your Services
Personal Selling Skills
Establishing Rapport
Identifying Needs
Matching Benefits to Needs
The accompanying Owner's Supplement contained—
Marketing Guide for the Staff of University Parkway Animal Hospital and Almost Home Boarding and Grooming Kennels: Owner's Supplement
I. Marketing Plan Notes
To Do Immediately
II. Establishing & Maintaining a Marketing Information System
III. Pricing Strategies
Pricing Work Sheet
Fee Discounts & Value-Added Services
IV. Client Evaluation Strategies
Client Spending Comparison Work Sheets
V. Program Evaluation Strategies
VI. Ongoing Testing
Logos, Stationery and Brochures
Finally, I created the tools needed to implement the marketing plan, designing logos, stationery, client forms and brochures to brand, position and promote the hospital and kennel.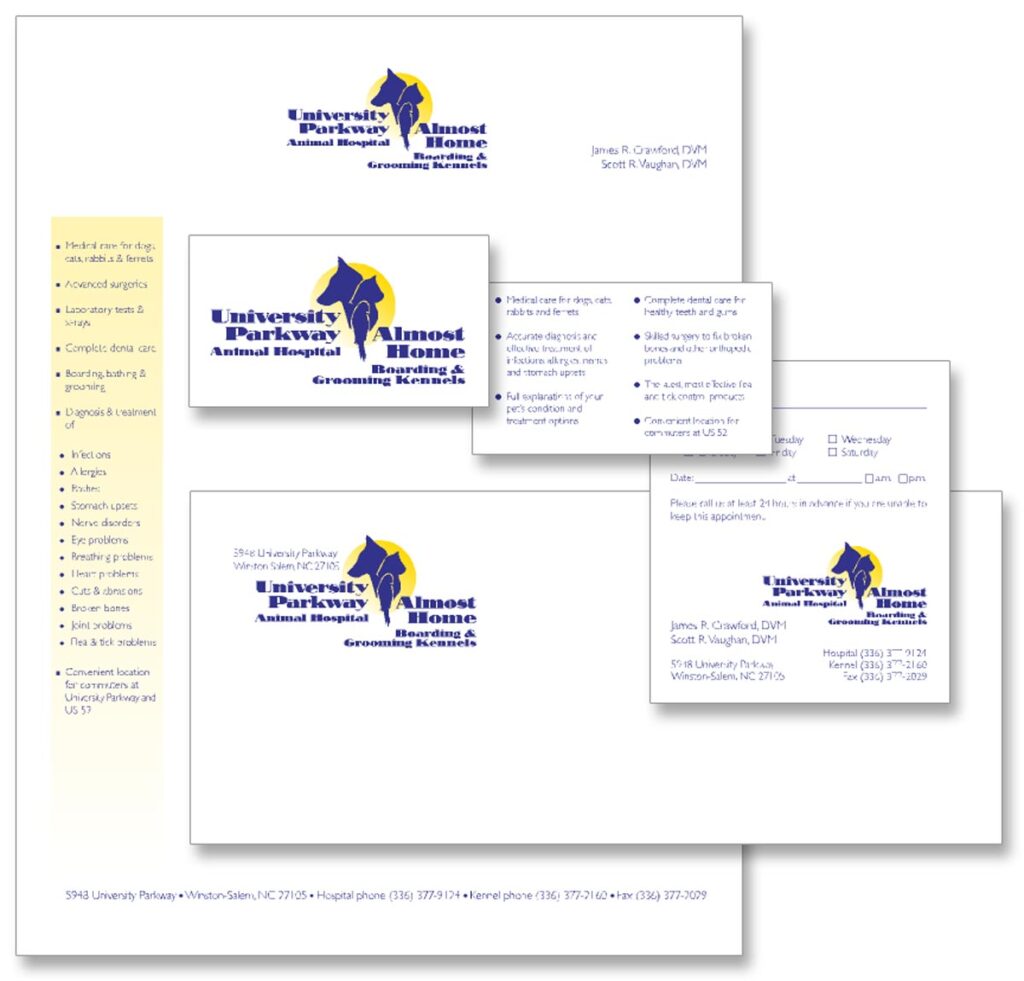 More Case Studies