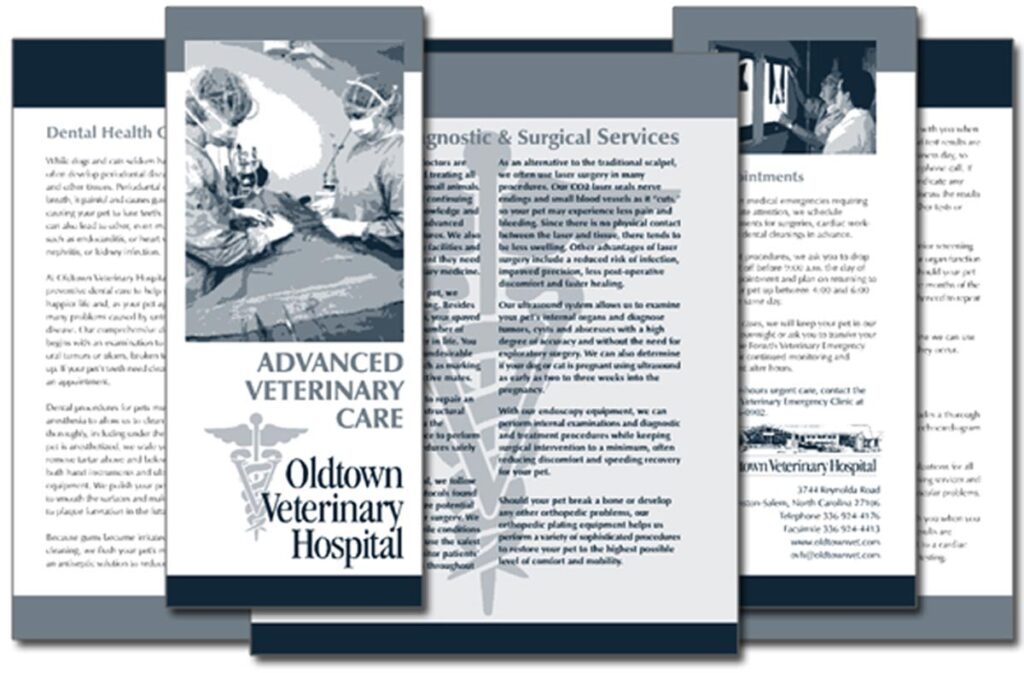 Oldtown Veterinary Hospital
Winston-Salem, North Carolina
Projects
1994, 1997, 1998, 2001, 2004, 2006
Forsyth County Veterinary Medical Association Cooperative Program Participant 1996-1997
Letters to clients
Logo and pocket folder design
"Welcome to Oldtown Veterinary Hospital" booklet
"Senior Pet Health Screening Program" brochure
"Dental Services" brochure
Branded client education handouts
"Vaccine Schedule for Dogs" and "Vaccine Schedule for Cats" flyers
"Professional and Support Staff" flyer
Logo and pocket folder redesign
"Welcome" brochure
"Advanced Veterinary Care" brochure
"Health Care for Dogs" and "Health Care for Cats" manuals
Branding workshop and consulting on mission, vision and positioning
Don S. Robertson, DVM, founded Oldtown Veterinary Hospital as a small-animal practice in 1966. It has been my practice of choice for my dogs since 1991 and was my first veterinary hospital client.
The first project for Dr. Robertson was a letter to clients I wrote in 1994. Soon after, I designed a logo and wrote and designed an assortment of marketing and educational materials for the practice.
As the hospital expanded and introduced new associates, I wrote more client letters in 1997 and 1998 and created brochures to promote senior pet health screening and dental services. A year later, I revised the original logo and created new brochures, along with a matching pocket folder. In 2001, I wrote and designed dog and cat care manuals suitable for printing in-house.
In 2006, with the clinic under new ownership by former associate, Scott Schroeder, DVM, I offered an after-hours branding workshop for the clinic team with help from branding expert Carol M. Mabe. Based on the team's input, Carol and I collaborated on a presentation in which we recommended mission, positioning and vision statements as well as a slogan to help define and differentiate the practice.
Oldtown Veterinary Hospital is now owned by National Veterinary Associates.
More Case Studies