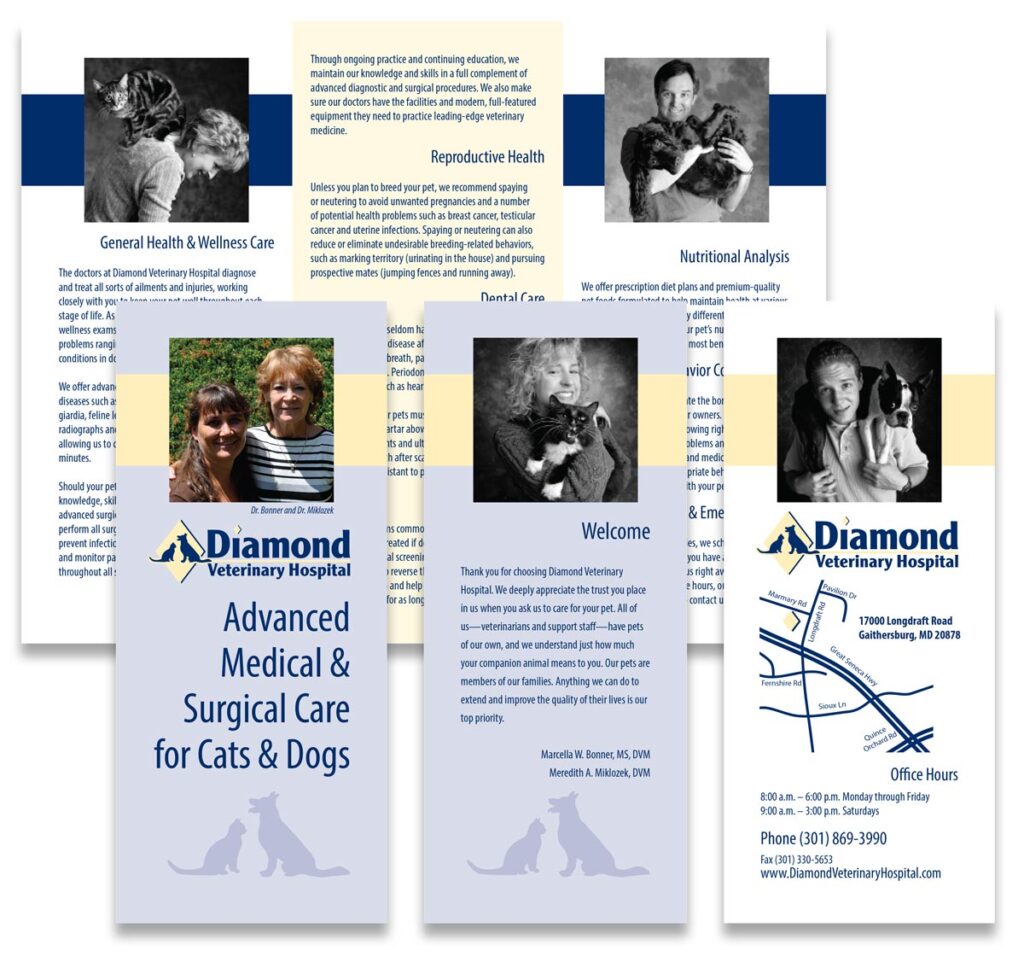 Diamond Veterinary Hospital
Gaithersburg, Maryland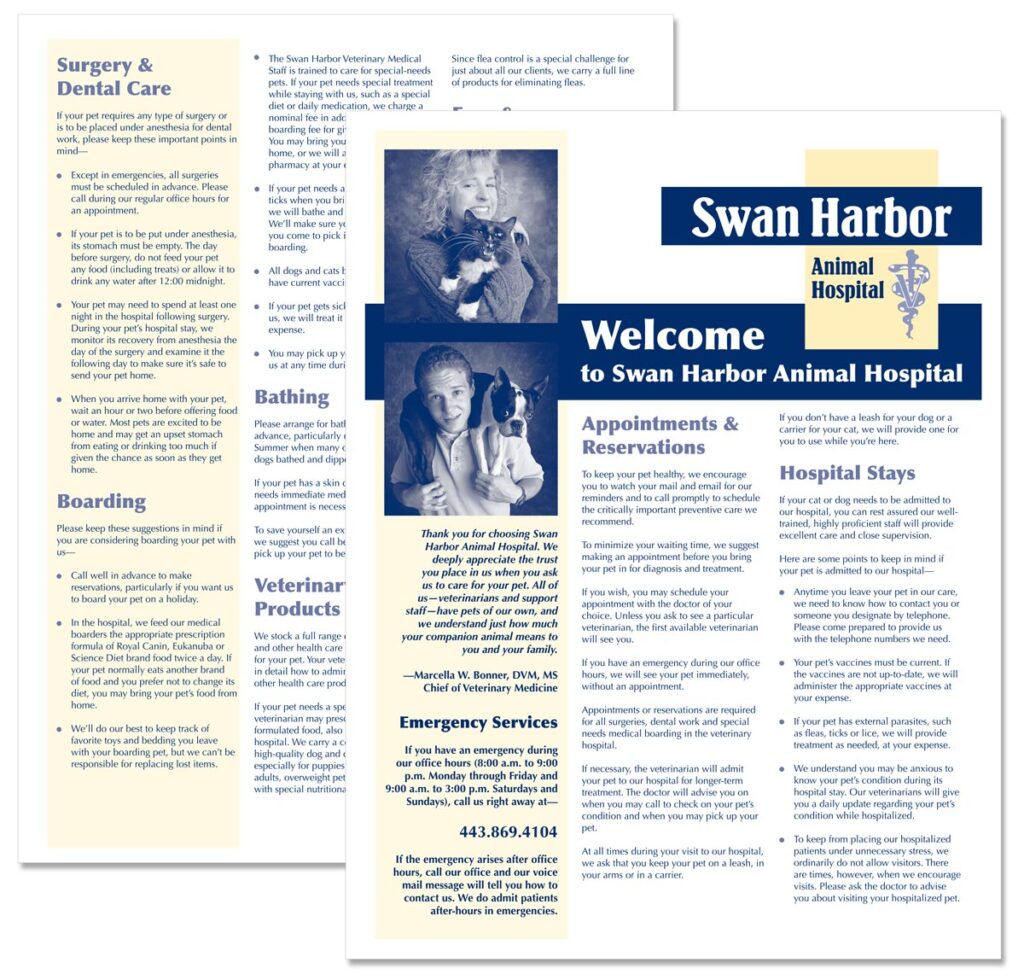 Swan Harbor Animal Hospital
Baltimore, Maryland
Swan Harbor Projects
2008
Logo and stationery designs
"Welcome to Swan Harbor Animal Hospital" brochure
"Services: Advanced Medical and Surgical Care" brochure
Diamond Veterinary Hospital Projects, Ongoing Services
2010, 2017-2022
Custom logo and stationery designs
Exterior sign design
"Advanced Medical and Surgical Care for Cats and Dogs" brochure
Client information and education flyers
Website creation
Website recovery and redesign
Website maintenance
I first worked with Marcella Bonner, DVM, MS, when she was a partner at Swan Harbor Animal Hospital in Baltimore. She initially ordered logo and stationery designs from VeterinaryLogos.com, and we went on to develop two large-format brochures for the practice.
Two years later, Dr. Bonner contacted me, saying she'd sold her partnership at Swan Harbor and was buying Diamond Veterinary Hospital in Gaithersburg. She wanted my help with rebranding the practice—this time with customized logo designs incorporating a diamond-shaped element.
In addition to designing the logos, stationery and a pocket folder, I wrote and designed a full-color three-paneled brochure and created supplementary handouts suitable for printing on practice letterhead to explain policies and provide educational information to clients.
I repurposed Diamond's brochure and handouts, creating a WordPress website for the practice. The site included a simple e-commerce page with PayPal shopping cart links to selected heartworm and flea and tick preventives.
Seven years later, after failing to receive notices and inadvertently letting her hosting account expire, Dr. Bonner was afraid her website was lost and she would have to start over from scratch. When I told her I could recover the lost content from a website archive, she hired me to rebuild the site—this time using a responsive theme.
After Dr. Bonner updated the recovered text and supplied some current photographs, I selected additional stock photos and assembled the content into the current website. Since completing the rebuild in 2017 through January 2022, I resolved occasional technical issues with the hospital's hosting account and, in an effort to keep the site secure, kept the WordPress software and plug-ins up to date.
It is a pleasure to do business with Kerry Nesbit. She is knowledgeable, efficient and experienced, and I highly recommend her to any veterinary hospital needing a logo, marketing materials or a website.

Marcella W. Bonner DVM, MS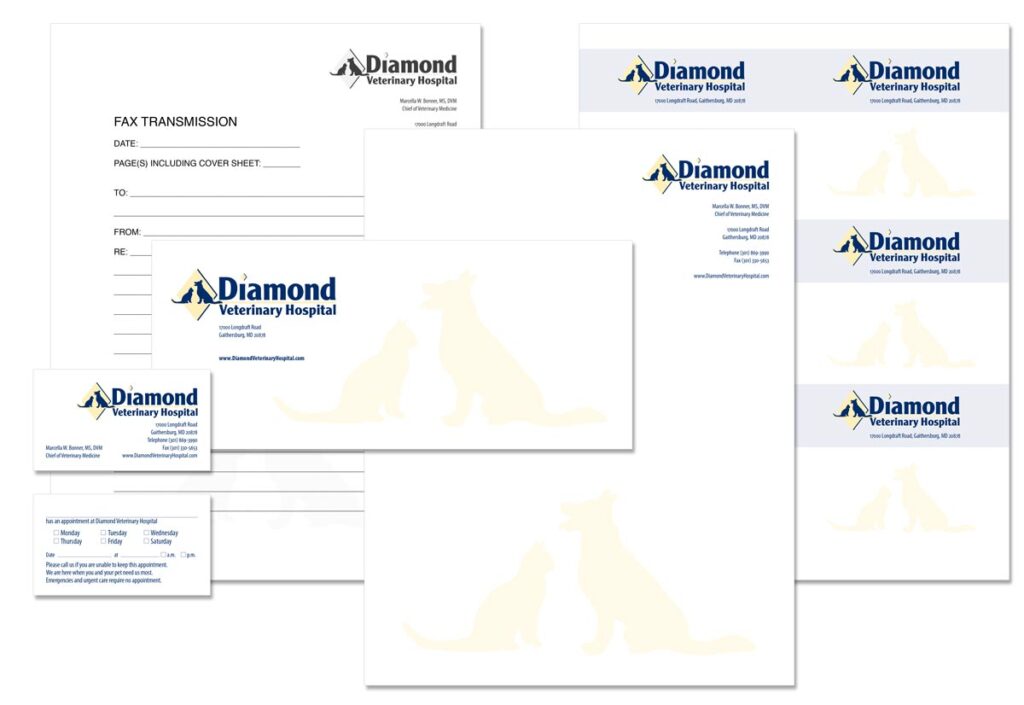 ---
More Case Studies